Winter 2007 Newsletter
Dear Fellows and Friends of BAU Institute,
BUONE FESTE!
On behalf of all of us, we want to thank you for helping to make 2007 such a success.
In 2007, BAU held our first art auction, hosted three residencies and a gala benefit, and staged four exhibitions. We also introduced new workshops and enjoyed many events together, including a reunion for 60 fellows and friends with dinner and Taranta dancing (in true Apulian style!).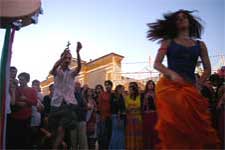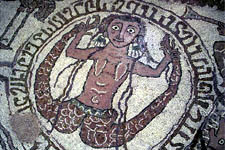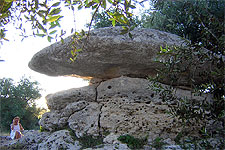 Now in our seventh year, over 350 fellows and students have participated in the Otranto programs in Italy and New York to challenge, transform and rejuvenate their work in architecture and the arts. More than 100 new friends have joined us for Institute events in New York alone. Not bad for a tiny, all-volunteer organization!
2007 BAU Exhibitions and Online Auction
The BAU Institute Gallery in Hudson, New York held two exhibitions in a beautiful donated space: in the winter, Contrappunto, an exhibition of 30 founders, fellows and friends, and in the spring, a one-person show by painter Susanna Tanger. The exhibitions were well-attended and well-appreciated, and we enjoyed getting to know the thriving art scene in Hudson.
May 2007: We held our first online auction, including works from the Contrappunto show, and many additional donations from generous artists and friends. The event culminated in a gala benefit and live auction in a spectacular Manhattan penthouse space donated by actress Susan Lange, and organized by BAU member Kathryn Biddinger, with lots of volunteer help from us all.
Our auctioneer—George McNeely of Christie's—brilliantly led the bidding for items including a week's stay in Otranto, a fabulous dinner at I Trulli, and NY art tours. Many beautiful artworks were offered by silent auction. The online auction and benefit raised $26,000, of which $14,000 covered expenses. The remaining proceeds were instrumental in supporting BAU's general operations in New York and Otranto.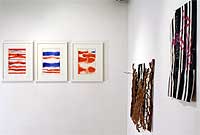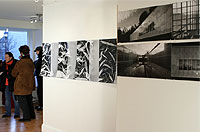 2007 Summer Residency in Otranto: New Spaces + Dialogues
The 2007 Otranto Residency for Visual Artists and Writers started in Italy in late June, with 15 fellows participating. We enjoyed many dinners and field trips and swimming in the azure sea, and all got major amounts of work done. "When did we ever sleep?" asked visiting critic, Carol Becker, whose appointment as Dean of the School of the Arts at Columbia University was announced just before the start of our session.
Pictured from L to R back row: Michael Swartz, Suzanne Silver, Brad Ensminger, Jack Murchie, Carol Becker, Sivan Swartz, Amira Swartz, Julie Gross, Margaret Stohl Peterson, Kim Uchiyama. Front row: Raphael Simon, Marthe Keller, Paola Iacucci. Missing: Beverly Nelson, Cecilia Barajas Lasky, Laurel Johannesson, Louise Read, Federico Figa' Talamanca, Phillip DeLeon
BAU Arts Residency also expanded its studio space in the Castle, now using the whole top floor and all five monks cells. We were also fortunate enough to add an apartment with a spectacular view of the port to our residential assets.
The 2007 Arts Residency fellows opened up a dialogue on current and historical conditions of abstraction tentatively titled: "The Origins of Abstraction, Crossing Cultures" – "Le Origini dell'Astrazione, Attraverso le Culture", which originates in the Salento area's rich cultural patrimony and continues to inspire new creative activity.
An exhibition of modern Islamic carpets on display in the Castle—next to reproductions of prehistoric cave paintings—resonated in an amazing way with our work and our discussions about abstraction.
Other highlights included an open studio tour at the end of the term, with all artists participating, and a talk by visual artist Suzanne Silver, whose installation, "Metafora" was held over through the end of July.
The 2008 Otranto Arts Residency is coming together now. Many people have expressed interest in applying, but have not yet done so. The deposit deadline—December 1st—has passed and we have limited space left. Now is the moment to apply. Program information and an application can be found on our website.
Please contact us at info@bauinstitute.org to request further information on the application process.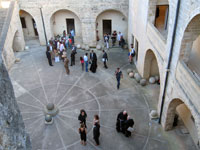 2007 BAU Programs in NYC + Otranto
The 2007 New York BAU Workshops, which were inaugurated by Paola Iacucci, Dagmar Frinta and Andrew MacNair, ran from February 5 to April 20 in the Baryshnikov Arts Center. Five workshops were held with 15 participants; some received partial scholarships from BAU Institute or from their employers.
One of our participants said "These workshops are a very necessary tool for culture in New York City." They allow artists, writers and architects to discover and to further their interests and visions in architecture and the arts, working with experts outside of an academic setting. All workshops are currently in hiatus to organize support for scholarships, and are scheduled to reopen in the fall of 2008.
The 7th Otranto Architecture Studios took place June 1-15 in Italy with Professor Keena Suh. Ten students from the Pratt School of Interior Architecture worked with Keena and Paola Iacucci, enhancing their perception of natural and social phenomena, materials and light. The students experienced enormous growth in their practice through drawings, prints and models of architectural interventions in specific sites in Otranto. We will be offering the Otranto Architecture Studio next June 1-15, 2008 for students from Pratt and other international schools.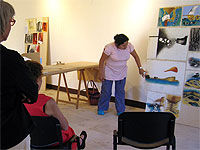 Mixing the Baroque + the Contemporary in Architecture
In September, BAU and Paola Iacucci collaborated with the L'Istituto di Culture Mediterranee della Provincia di Lecce and TEKNE Laboratory of Contemporary Architecture to foster contemporary architecture in the province of Lecce. Exhibitions on the work of architects Steven Holl of New York and Heinz Tesar of Vienna were held in the Church of Immacolata in Calimera and of San Francesco della Scarpa in Lecce. Heinz Tesar held a dialogue with the mayors of several cities in Salento.
BAU hosted the architects Heinz Tesar and Antonella Mari, representing Steven Holl. Steven Holl will visit in May 2008 when the shows travel to Bari and Polignano. Also in 2008, the architect Alvaro Siza from Porto, Portugal, will have exhibitions on May 9th in the Church in Lecce, and on May 10th in the Castle of Acaya, organized by Paola Iacucci and sponsored by the Istituto del Mediterraneo.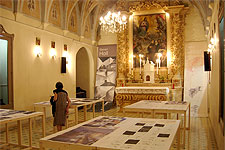 Art OMI Sponsors BAU Residency in Architecture
OMI Arts Center in Ghent, New York sponsored BAU Institute's City of Landscapes residency for site research from December 4-9, 2006. Ten international artists and architects were invited for an intense week of work at the site—475 acres of forest and farmland at Architecture OMI. The collaboration between younger and more established architects resulted in a proposal for the design of twelve museum pavilions, as well as an elevation site plan.
The site plan was created under the coordination of Paola Iacucci with a group of international architects and artists: Daniela Antonucci, Pino Barilla, Fausto Ferrara, Dagmar Frinta, Farah Malik, Ramon Muggli, Katharina Prantl and Gabrielle von Bernstorff, and was presented to Francis Greenburger, Peter Barton and Art OMI board members in late December, 2006.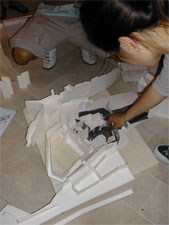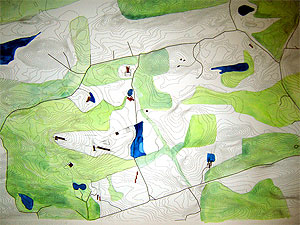 Future Growth
To continue our creative growth and and help the all volunteer staff, BAU is building a professional structure with a paid staff. We have set an ambitious spring fundraising goal of $60,000.
Your generous donations will help to cover scholarships, fellowships, website maintenance and administrative costs. To save on printing and mailing we will not be sending out a solicitation by mail this season, so please donate here (choose "BAU Institute, Otranto & NY" from the pulldown menu.)
$100 purchases a Membership to BAU Institute
$250 gives a Scholarship for the New York Workshops
$500 pays for one month of administration
$1000 covers one-half year of website work
If you would like to endow a full scholarship in your name, we would be thrilled to make the arrangements. Please call Paola at 212-629-3083.
Our inaugural West Coast fundraising events—Vino, Arte, Otranto—will be held in Woodside and Santa Monica, California in March, 2008. Writing Fellows from California have volunteered to organize these events. We look forward to raising a glass with our former Otranto Fellows—along with our current West Coast patrons—at these two notti perfette.
Join Us in December + Save the Date for February
In New York we are planning two winter gatherings: On December 28th, we will be holding a small Fellows reunion with wine and aperitivi, for those who are in town for the holidays. Please RSVP to Marthe at 212-431-6923 or info@bauinstitute.org.
A Winter Festa will take place on February 23rd. Please check our website for updates on all of these events.
Your active participation is BAU Institute's future.
TANTI AUGURI AND HAPPY HOLIDAYS,
Cecilia Barajas
Kathryn Biddinger
Dagmar Frinta
Laura Briggs
Bradford Ensminger
Paola Iacucci
Marthe Keller
Jonathan Knowles
Andrew MacNair
Margie Stohl
Gabrielle von Bernstorff
Marina Urbach