Fall 2012 News

After nine amazing years of Residencies we have finally been awarded non-profit status! The upcoming year will be an exciting period of growth starting with a campaign to fund full fellowships and a party to launch it. Read on for more news.
In this Issue

• New non-profit status
• Save the Date: November 14. Party!
• Residency Reports 2011 and 2012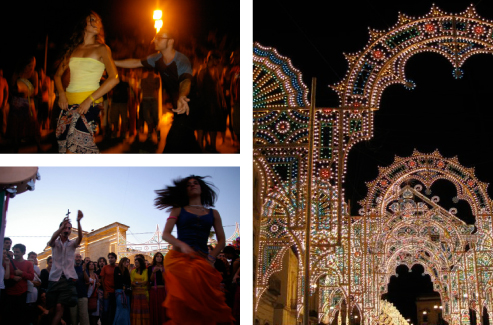 Save The Date: November 14
BAU Party in New York!

Una Notte con I Miei Amici di Otranto
Larry Mufson, architect and lover of all things Italian is celebrating his election to the BAU Institute board with a party he calls Una Notte con I Miei Amici di Otranto, to introduce BAU Institute to his friends and ours. Come for aperitivi and enjoy the images and sounds of Otranto photographed and recorded by BAU artists. Meet Larry's Amici di Otranto, the artists and friends of BAU Institute, and come to welcome our new Board of Directors.
We are thrilled to announce the first named fellowship BAU has ever offered!
The Carlo Cego European Fellowship honors an artist and dear friend who worked in Otranto for many years, starting the legacy that is now BAU Institute. This will launch the campaign to raise more named Fellowships for 2013!
Join us
Wednesday, November 14, 6-8 pm
at The Mufson Partnership
22 West 19th Street, 5th floor
New York, NY 10011
RSVP with your mailing address: Info@bauinstitute.org
Invitation to come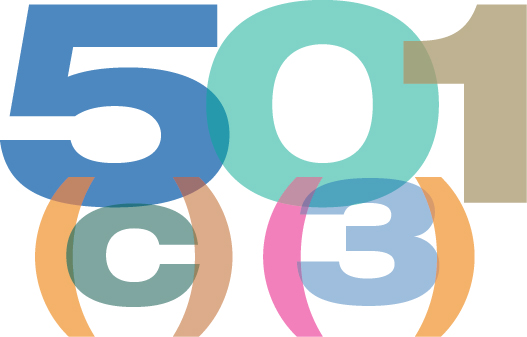 New non-profit status

It's been quite a while since our last newsletter, and in that time BAU has undergone some important changes. We have finally been approved as a 501(c)(3) organization and are thrilled to announce our status as an official non-profit! While grateful to Fractured Atlas for their years of support, we are finally independent! BAU can accept donations directly with no intermediary taking a cut. Your donations directly support the artists enabling BAU to offer artists full fellowships!. Bravo to legal eagle, Ben Flavin, and accounting maven, Jay Lonschein for completing the job that Paola Iacucci, Marthe Keller and many other friends and colleagues started 9 years ago. With this new status come many opportunities for BAU to grow. A new Board of Directors is now in place and growing. Their expertise and generosity will guide our expansion in Italy and New York.
The 2011 Residency

As this newsletter is long overdue, so is the report on the June 2011 residency! Where to begin with such a full month in Otranto? This year we invited art historian Peter Benson Miller, and artists Jennifer Riley and Kelley Wilson into the studios. The frst session assistant to Paola was Federica Aiello Pini, an artist from Mantova who knew how to dance the tango, among other talents. Amira Swartz was the studio manager in the second session. Everyone was grateful for her help and her many trips to the ferramenta and especially her excellent Italian!
As always the experience was filled with exceptional installations and performances in the castle. Of particular note was the sound installation by sculptor Scott Sherk. After recording the local swallows piercing calls, he was able to use his exceptional abilities to slow the recording while maintaining the original pitch; we were amazed that the sounds were reminiscent of a beautiful human chorus moving around the castle room.
While Scott's sound installations were unique in the history of the residency, the 2011 fellows continued the tradition of capitalizing on the creative atmosphere to produce new work of all kinds. Lilly Spratt was inspired to create La Perfezione Sprecata, a moody installation of hanging filaments kept open to the public for several months. Lynne Harlow enlivened the castle with a yellow line which subtly prompted tourists to notice architectural nuance. The poetic song performed by Nich Haber was another highlight, in addition to animation, painting, photography, architecture, design and so much more created by the fellows!



Close bonds were formed among the artists—an avid group of wine tasters and cooking students—who engaged longtime friend Federico Talamanca to give a cooking class. They shared their delicious spaghetti vongole and pulpo marinato with us all for an exquisite lunch! While touring Galatina and admiring the frescos in Santa Caterina, Federico also introduced us to a private restaurant, where the chef himself serenaded the group with traditional folk songs.
One of the most affecting experiences we shared was the Salento music performance at a local masseria where artist Iona Kleinhaut recalled the "impassioned grandmothers wailing their ancient laments in Grecanico (ancient Greek) and the audience dancing into the night."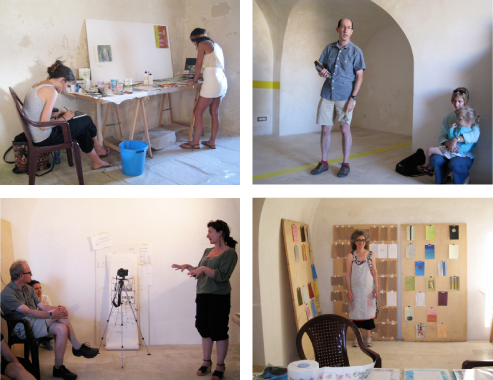 2011 Fellows and Staff:

Pat Badt, Ariane Braillard, Francesco Cincotta, Kim Cources, Linda Geary, Wendy Gittler, Nich Haber, Lynne Harlow, Paola Iacucci, Beverly Brindisi Nelson, Gordon Nelson, Marthe Keller, Iona Kleinhaut, Sheila Kramer, Beth Netelkos, Federica Aiello Pini, Jonsara Ruth, Scott Sherk, Lilly Spratt, Federico Figa Talamanca, Amira Swartz, Kim Uchiyama.
The 2012 Residency

The 2012 month of arts and collaboration in Otranto was productive in every way! An amazing amount of new work was accomplished, and newfound bonds formed. Painter Lucio Pozzi and film-maker Gianni Sirch were the visiting critics, and each gave presentations and powerful critiques that were universally appreciated.
This year's residency was more well-organized than ever thanks to the hard work of two artist assistants. Dagmar Frinta, coming from Prague, was an invaluable help to Paola and everyone in the first session, and Anke Becker,
from Berlin, brilliantly managed the studios in the second session, creating a library and communications network for the fellows. We definitely want them to come back every year!
As returning fellows know, favorite restaurants and music vary each year, and different sites grab the imagination of the group in a new way. This year it was the frescoed Byzantine Crypt in Giurdignano: a work carved in stone, but which imitates a wooden structure (Lucio called it "post-modern"). We also loved dancing at a festival of Grecanico music in Calimera, where a third generation of authentic performers fused the ancient and contemporary sounds of the style. We have their album Focu d'Amore to play at our next reunion this November 14!
First time visitors to the Salento area found the music and culture to be a life-changing experience, not to mention the first taste of olives for one Northern Canadian! We look forward to seeing how the experience in Italy will inspire
future work.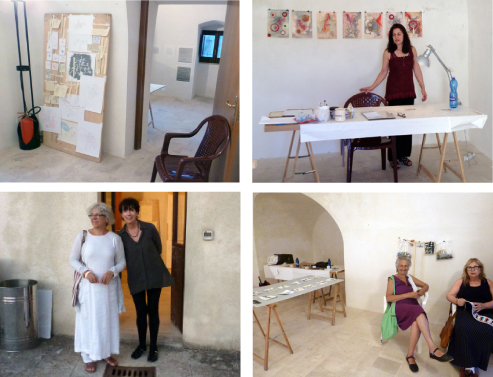 2012 Fellows and Staff:

Kate Beck, Anke Becker, Martha Bergman, Andree Bezou Carter, Holly Cunningham, Carole D'Inverno, Mary Dorsey, Brad Ensminger, Dagmar Frinta, Nancy Goldring, Tayo Heuser, Paola Iacucci, Marthe Keller, Iona Kleinhaut, Roberta Lozzi, Betty Merken, Mary Newcomb, Debra Ramsay, Julia Salinger, Robert Solomon, Federico Talamanca, Julia Trops, Roberta Pyx Sutherland, and Betty Torrell.
Thank you

Thank you to all the Fellows who provided their photos, keep them coming.
We have added many many new photos to the photo archives. Send your favorite photos to Brad <bradforde@earthlink.net>.
And as always, thank you for being a part of our community. You have been instrumental in creating and maintaining the BAU Institute. Our relationships
are our strength, and we really count on your vision to shape our future.
Endowments

Your generous donations help to cover all-important fellowships.
Endow a Fellowship and receive an original artwork from the
artist recipient!
For full or a partial scholarship to be given in your name, please email Barbara at: Info@bauinstitute.org, or call Marthe Keller at (212) 431-6923.
Any amount no matter how small is much appreciated!
Your active participation is BAU Institute!